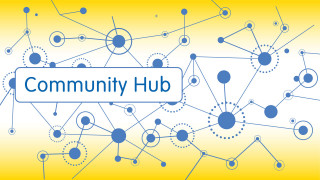 A new place for the people of Birmingham to find information, advice and support.

At the beginning of the COVID-19 lockdown our Learner Services team decided to create a virtual space for our learners so that they could quickly find organisations that offered information, support and advice.
What started off as a simple idea soon developed as the team realised the Hub could be so much more and was an effective way to also support the mental health and wellbeing of our learners through these uncertain times.
"For me the Community Hub is about sharing and bringing people together, by having that 'go to' place where there is everything under one roof and is accessible 24-7."

Alison Beacham - Learning Support Co-ordinator
You don't need to be a BAES learner to access the hub.
We want to really make these resources available to everyone. You just need to click the button below and then use the following information.
Username: BAESGuest
Password: CommHub
A resource for everyone...
As the contents on the Hub grew in both size and content the team decided that it was too useful a resource to keep within BAES so decided to share it with the wider population of Birmingham.
At a touch of a button users can access a list of valuable resources and information links. There is a diverse range of information types to choose from such as contact details for food-banks, community support networks, how to keep safe and debt advice.
Contributors also brought together some ideas for keeping fit and fun things for families to try, there is something for every age and ability to explore and enjoy.
The hub also contains an interactive area where visitors can share ideas or leave suggestions. Or if visitors have questions or need requests for extra support they can be made directly and one of the team will get respond during working hours. Not all requests for information or support can be dealt with by the team but we will signpost you to the ​most appropriate service, offer reassurance or just listen.
"The hub is not only a place to access great information but also a place to share. The hope is the community will eventually take ownership by sharing stories, recipes and tips on the Community Hub's forums and chats making it an even more exciting, fun and informative resource."

Nick Davis - Learning Support Co-ordinator