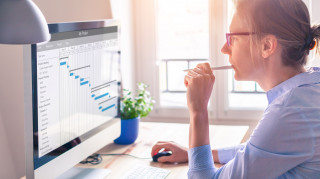 As we begin to turn our thoughts towards the prospect of life after lockdown, none of us can be certain what the world of work will hold in store for us.
An excellent way to put yourself in more control of your job prospects and feel confident in an environment of rapid change is to enrol onto a computer qualification course. Our European Computer Driving Licence (ECDL) courses give you the opportunity to gain the IT qualifications that are widely recognised by employers and show that you have a variety of essential skills in IT and administration.
Flexible study to fit in with your lifestyle
The great thing about ECDL is that the courses are delivered in a very flexible way and the course contents are accessed online. This means that it gives you the freedom to study and complete coursework at times that best fit around your other commitments. Tutors will be available at agreed times during the week to address any questions and concerns so you can progress at your own pace and as quickly as you wish.
Provided you meet residency requirements the ECDL - level 1 qualification is free and the level 2 course is being offered at an great discounted price of £110 down from the usual £445. We are recruiting to both level courses now.
ECDL - level 1 is ideal for those with some IT skills who wish to start to gain some IT qualifications. This is a fantastic way to begin to acquire the skills that could transform your job prospects.
ECDL - level 2 is suitable for those with greater IT experience who wish to acquire a qualification sought by employers. It is the next step for learners who have recently completed ECDL or ITQ Level 1, as well as anyone who has an above average knowledge of Microsoft applications in a work environment.
Access to Office 2016 software at home is advisable.