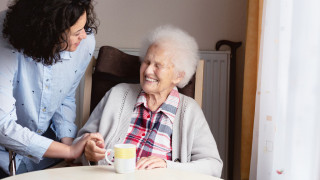 Four little words, but for millions of people in today's transformed world nothing is more important – and you can be part of it!
Even before the Covid 19 outbreak, Health and Social care has always been vital for a large proportion of our local communities. In recent years, the sector has seen ever-growing demand for care. Latest estimates are that 1.48 million people work in the social care sector, helping people to live longer and supporting our elderly citizens who are in need of care and assistance to get through their day-to-day lives. It is estimated that 500,000 extra workers will be needed by 2030.
Since the COVID 19 outbreak, interest in the care profession has grown and care and care workers are finally receiving the positive press that they deserve. There are individuals out there, who have not yet realised the care they have been giving on a daily basis for a loved one, could actually become a career.
So what motivates BAES' fantastic health and social care learners and tutors?
T.S (tutor) – "Since leaving school my whole career has revolved around Care, whether working in mental health, counselling, domiciliary care or now teaching. Nothing is more satisfying than helping others; most people help loved ones every day and working in care can help you develop a rewarding career from that natural instinct."
Irina (learner) – "After being a stay-at-home mom to two children, I returned to education with BAES, in childcare studies. My experience has been very positive, the tutors are highly professional but also friendly and understanding. Each student gets the attention they need and my knowledge and confidence increases every week."
So why not consider starting or enhancing your career in care with one of BAES's wide range of comprehensive, high quality courses? So many jobs today involve helping vulnerable people, enhancing and enriching their lives - these jobs are highly valued in the wider community and having the correct education, training and experience will benefit you substantially in the role.
BAES have a range of health and social care courses available to everyone, some of which can be taken online, starting with our free introductory course where you can get a flavour of what is involved in this sector, click this button to find out more.
For those of you that have set your sights high, we have a level 3 Healthcare and Support course scheduled to start on 17th September 2020, this sought-after course will run every Thursday from 9:30-3:00pm at Brasshouse Languages inside the Library of Birmingham. This course could provide you the necessary skills and knowledge to progress onto the nursing associate programme.
If you wish to enrol, or have any questions please contact – This email address is being protected from spambots. You need JavaScript enabled to view it.