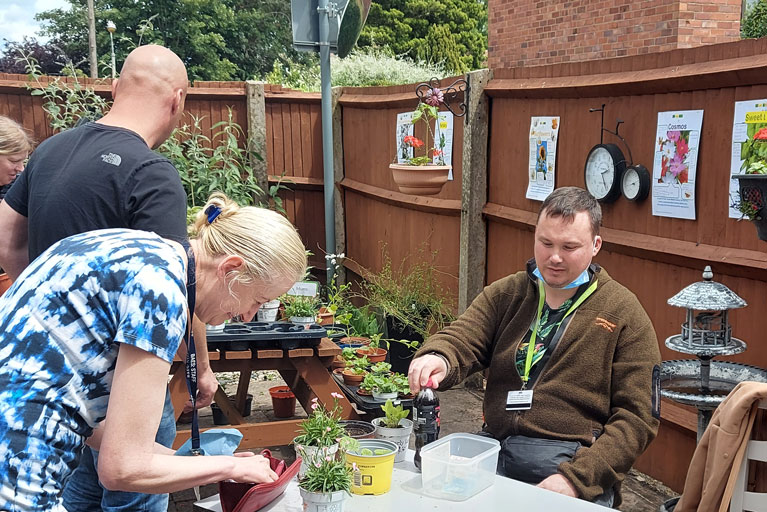 Our Independent Living Skills group at Northfield Centre have been organising their very own garden party since April.
Throughout the course, our SEND (Special Education Needs and Disabilities) learners planted a variety of seeds. They used the photos on the seed packets to visualise the plant that would grow, and read the instructions on the packets to learn about sowing depths and conditions.
It all starts with you!
Take control of your future with skills for living and employment
At BAES we offer courses where you will thrive and develop skills for independence and active participation within the community. Our courses are designed to inspire learning ability whilst overcoming disability. If you are not sure which course best suits your needs, or you want to discuss future goals, then we are here to offer comprehensive information, advice, guidance and support.
Learners can join at any point and any time according to an interview, needs assessment and where a learner is best placed at time of entry. Suitable courses can be planned around, independent living, volunteer work and employment.
It's all about the support we can offer you!
If you feel any of the courses might be right for you, we would be very pleased to invite you to an assessment day so you can meet the team and find the right course for you. Call our Information Line on 0121 303 4318 or email This email address is being protected from spambots. You need JavaScript enabled to view it. if you would like more details or some help to find the right Special Educational Needs and Disabilities (SEND) course.
Information for parents/carers
We offer a rich and motivating learning environment where learners will be set targets to help them thrive and develop skills for independence and active participation within the community. All courses are delivered by specialist staff and experienced and appropriate support will be offered. To discuss an individual's needs get in touch and talk to a member of the team.
Introduction courses
These courses are designed as a platform to help people fulfil their potential and achieve personal or career goals. Included in the introduction course is developing of personal presentation skills and learning about digital technology. All these courses are designed for people with learning difficulties and disabilities.
---
Preparing to Shape your Life courses
These courses are a perfect way of getting back into learning and are a great starting point to planning and doing more with your life. Learning within a supported environment, you will build confidence, resilience, self-esteem, and how to manage risk. The skills you will learn
working as part of a team
the importance of good communication skills
thinking and taking part in different activities
looking after yourself in the community, home and college
developing new skills, aspiration, motivation and ambition.
---
Access Courses
Our access courses are a brilliant way of giving you the next step into a career or a popular route to changing your life. As well as developing subject knowledge, you will take part in exploring occupational areas, work placement or volunteering.
Access to Working in Catering - Entry 1
Skills you will learn
basic cooking techniques
health and safety in the kitchen
taking part in a project or event
preparing a meal for yourself
engaging in team work
improving English skills
improving maths skills
Progression: Access to Working in Catering - Entry 2
Access to Working in Catering - Entry 2
On successful completion of Access to Working in Catering - Entry 1, or as the result of a skills based assessment you can attend this course. Skills you will learn
health and safety in the kitchen
developing cooking techniques
taking part in a project or event
preparing a meal for others
customer service skills in hospitality
improving English skills
improving maths skills
voluntary work placement / supported work placement opportunites
Progression: Supported employment / voluntary work / paid employment
---
Volunteering and Supported Employment
Skills you will learn
communicating with others
personal presentation skills
engaging in new situations
developing digital communication skills
helping with an event
handling own money
Improving English skills
Improving maths skills
Progression: Supported employment / voluntary work / paid employment
---
Access to Independent Living Skills - Entry 1
Skills you will learn
engaging in new situations
handling own money
preparing a meal for yourself
engaging in personal health & wellbeing
communicating with others
exploring the local community
participate in practical household tasks
navigating from one place to another with support
Progression: Access to Independent Living Skills - Entry 2
Access to Independent Living Skills - Entry 2
On successful completion of Access to Independent Living Skills - Entry 1, or as the result of a skills based assessment you can attend this course. Skills you will learn
developing digital communication skills
handling own money
engaging in personal health & wellbeing
communicating with others
exploring future options in the local community
producing a basic document
navigating from one place to another independently
Progression: Supported employment / voluntary work / paid employment