What our staff say...
Karen - Health & Social Care teacher
What brought you into teaching?
I worked in a school and then a domestic violence hostel. As part of my role, I began running workshops for the parent and carers. I enjoyed it but I found that the children couldn't succeed unless the parent succeeded. Many of the parents I met had low level skills and many had never worked. That began to trigger my thoughts on the value of adult education. I originally began tone course as sessional teaching doing this alongside my work. I soon worked my way to becoming a salaried teacher.
I occasionally come across students who I have taught over the 20 years I've been teaching. It's good to remember where they started and see where they have ended up, not only in employment but in their personal lives.
How have you made a difference with the students' lives?
It's easy to see how you made a difference with regard to gaining employment with learners going on to a range of careers. Including, several learners going into teaching, nursing, social work etc.
It's nice though to see the difference you make to learner's personal as well as professional life.
I had a learner who had just had a breakdown in a relationship and was lacking in self-confidence, she competed her level 2 childcare, she then went onto an access course before becoming a theatre nurse at the QE Hospital. She has gained autonomy and confidence.
Why have you stayed so committed to adult education?
The learners in adult education are self-motivated and have a goal that they are working towards - which makes it very rewarding. No two days are the same.
Learners bring their past experience and knowledge with them and as a tutor your role is to help them recognise where they are starting and the contribution they can already make to their learning. Learners appreciate that we make sessions fun and informative and challenging.
What qualifications do you have?
I was a teaching assistant in a school then I came to BAES and they trained me up to DTTLS and QTLS, I become a qualified teacher. BAES still offers me a range of learning experiences so that can keep up to date with changes within the sector.
---
James - Learner Support Assistant
I started volunteering with BAES in 2022 as a volunteer teaching assistant. Initially, I volunteered one day a week, assisting both the teacher and learners with English. It is one decision I did not regret. I soon increased my hours to 3 days a week, again with English classes. There are always plenty of opportunities to volunteer in many subjects and locations across Birmingham.
Learners come from all backgrounds, but all have one thing in common - an enthusiasm to learn.
Also, I was very well supported by the BAES staff with training and mentoring.
Today, I am a paid Learner Support Assistant, working closely with the class teacher and individual learners to make sure I can match their drive to make the most of lessons. I have learned quite a lot myself, particularly when learners come from such diverse backgrounds and circumstances. To listen, be quietly patient and supportive, works well with our learners. As the academic year progresses, learner self confidence seems to increase in line with a better understanding of English.
It's a real pleasure to know that I have been a part of that journey, all the way to the smiles when class pass marks are received.
Vacancies with BAES
General enquiries
For all enquiries/questions relating to a specific post you've seen advertised, please contact the hiring manager, details found on the advert.
Candidates can contact the recruitment team by calling 0121 675 7070 - option 3
(lines open 08:45 – 17:15, Monday to Friday.)
Benefits of working with us
Why work for BAES?
we are an ambitious and supportive organisation
we have a diverse and inclusive workforce
current Ofsted Grade 2 and working towards Outstanding
highly respected by our funders the West Midlands Combined Authority (WMCA)
very learnercentred approach - high expectations for each learner to fulfill their potential and goals with a dedicated team committed to new ways of engaging
smaller teacher / learner class ratios (compared to FE Colleges)
strong and innovative leadership that is committed to putting the learner, communities and the staff team at the centre of everything we do
the service is financially thriving and seeking growth - we are part of Birmingham City Council
salaried positions meaning increased job security
fee exemption for staff on BAES courses (professional development or for pleasure)
generous TPA pension contribution
excellent opportunities for CPD and professional development
excellent career progression opportunities
free staff well-being service
be part of Birmingham City Council's Staff Rewards programme
Join us and make a real difference
If you have a passion for helping adults achieve their life goals - we want to hear from you!
Birmingham Adult Education Service is one of the largest providers of adult education opportunities in the United Kingdom. Each year we run over two thousand courses and have around 10,000 learners who benefit from the new skills and confidence they acquire on our wide range of courses. As part of Birmingham City Council, we have an exciting and growing programme of provision to support the employment and wellbeing agenda of our diverse and multicultural city.
At our last Ofsted Inspection (March 2019) we were judged to be GOOD.
We are looking for innovative and dedicated tutors, highly skilled business support and professional services staff to join our team as we continue on our journey to becoming outstanding. If this sounds like you, we'd love to hear from you!
What we do
We deliver:
Qualifications from Entry level up to Level 3
GCSE courses in English, Maths and Science
English language course (ESOL) (includes understanding cultural differences and community cohesion)
Courses in over 15 different modern foreign languages from beginners through to advanced level
Courses for individuals who wish to upskill and obtain qualifications for work
Vocational courses: IT, business, creative arts, health and social care, well-being, special/additional educational needs
Vocational courses can include work-related placements and activities
Family learning courses (in partnerships with schools/children's centres)
Courses run during the daytime, evenings and on Saturdays
Courses run all year round
Equality and Diversity
Birmingham Adult Education Service welcomes people from diverse and under-represented communities.
We are committed to promoting and supporting the physical and mental health of all our staff and removing barriers to improve inclusion. We encourage applicants to disclose disabilities so we can support them fully during our recruitment process and make any necessary reasonable adjustments.
We are making significant strides to understand and continuously improve our employees' experience and we are committed to implementing progressive diversity talent management.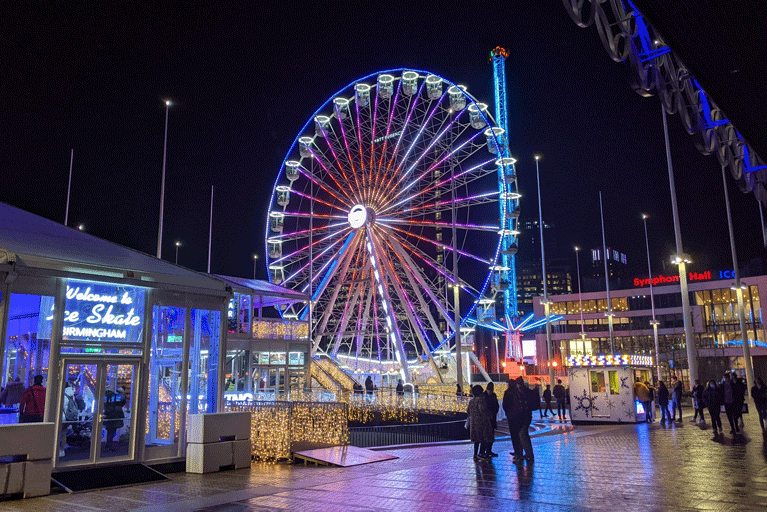 Do you love writing? Have you got a fantastic creative story to tell? Or maybe a memory or significant moment you're keen to share?
If the answer is YES - we want you to take part in our Winter in the City writing competition and send us your poem, short story, letter or diary entry. Book token prizes are available in both adult and children categories.
Subcategories